Santa Claus - Business
christmas, suicide, music, taliban, dschihad, childhood, brand, trademark, santa claus,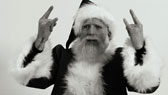 Santa Claus - Business

This is a world-exclusive Interview. Although we met the CEO of "Santa Claus Industries" in a very busy period of the year, he was extremely friendly and yes: he´s a pretty cool guy! We learned quite a lot about the family-business´ early beginning, including their arrangements with the catholic church, we heard statements about former partners like Coca Cola and how the Taliban endangered one of the company´s most important Trademarks, the beard. We now also know about his music-taste and what he´s in the business for....
November 30th, 2011
"Santa Claus Industries" Headquarter

Interview and Visual Concept: Sven Haeusler
Camera: Olaf von Voss
Editor: Sven Haeusler
Make Up: Julia Primus

If in Berlin, it is most likely that you´ll meet our Interview-Partner in the legendary club "White Trash Fast Food".
German Wikipedia Site "nikolaus"
German Wikipedia Site "weihnachtsmann"
Santa Claus at Wikipedia