Raz Ohara - Isolation
isolation, childhood, loneliness, drugs, sharing,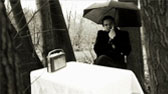 Raz Ohara - Isolation

We met Raz Ohara somewhere far away from nowhere. After showing us how to control the world´s sound, the berlin-based musician first refused to know anything about isolation. That caused frozen raindrops falling from the sky (we should have been warned by raz showing up so well prepared cloth-wise) but when his memory returned and he decided to open up a bit more - the sky just did the same. we never again experienced an interview where the weather went so well with the spoken words...
March 14th, 2008
Treptower Park, Berlin

Director of Photography: Sven Müller
Interview and Visual Concept: Sven Haeusler
Raz OHara at MySpace
Raz OHara Label Kitty Yo
Raz OHara at Epitonic