Black Francis - Erotic
erotic, body, head, smell, back, sound, music. black francis,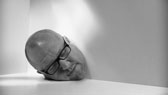 Black Francis - Erotic

Yes, we are definetly kind of proud: This is probably the first ever REAL "talking-head-interview"! Mr Black Francis talks about one of the most intimate topics, mentioning his personal top ten of important body-parts, his favourite smell and sound - we nearly fell in love with him for so much openness... But please: donīt ask us where he left his body....
February 15th, 2010
Hotel California, Berlin

Interview and Visual Concept: Sven Haeusler
Camera: Sven Müller
Editor: Patrick Protz
FX: Philip Hillers
Official Website
Black Francis at Wikipedia
Pixies at Wikipedia